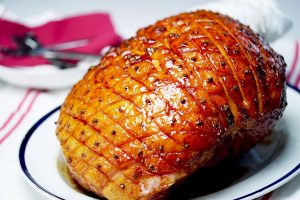 Orange & maple glazed luxury ham joint
Serves 6 - 8
(Contains - sulphates) 
Place ham in a pot and cover with cold water, bring to the boil, skim and simmer for 45-50 minutes, remove from pot and place in a roasting tin. 
Score the fat of the meat, cover with orange and maple glaze. 
Place in a preheated oven (180C) for 20-25 minutes, basting regularly.